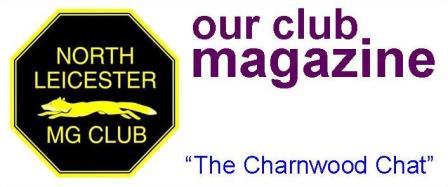 ABOUT THE CHARNWOOD CHAT
The club's magazine,

The Charnwood Chat

, was re-launched in its current format (A5, usually 12 or 16 pages) in Setember 2013. It gets its name from the area of Leicestershire (The Borough of Charnwood and Charnwood Forest) where the club is based.

It is produced every month and issued free to members at each club meeting. Back copies are available for members who have been unable to attend a previous meeting.

Typical contents include articles about club activities, classic car runs and classic car meets which our members have taken part in. There are also regular features about our members' MGs and their other hobbies. Each issue contains the minutes of the previous month's meeting and a message from the club's chair. The majority of the magazine content is written and contributed by club members.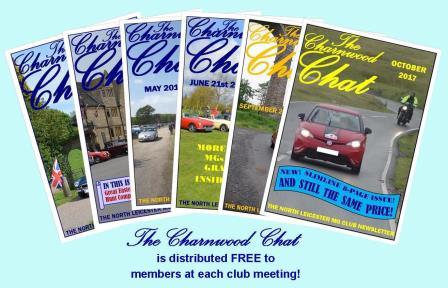 Click on the links below to view selected pages
from the
SEPTEMBER 2018 ISSUE
of the
CHARNWOOD CHAT
MAGAZINE COVER
PAGES 2 & 3
Editor's Message, Contents, Charity Abseil
PAGES 6 & 7
Report of Cotswolds weekend
PAGES 12 & 13
Cheque presentation to STEPS charity
PAGES 14 & 15
Report of South Leicseter MG Club's "Ratae Run"
Click on the links below to view selected pages
from the
AUGUST 2018 ISSUE
of the
CHARNWOOD CHAT
MAGAZINE COVER
PAGES 2 & 3
Editor's Message, Contents, Chairman's Message,
Amongst My Souvenirs
PAGES 8 & 9
2018 Charnwood Caper report
PAGES 10 & 11
Churnett Valley Railway day out report

< Click to join our 280 followers
@NorthLeicsMGOC
visitors to this page since 2/01/2015
Go to
WEBSITE CONTENTS MENU