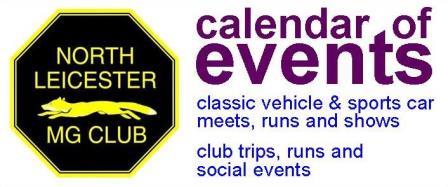 Sunday 6th September 2020
RAINBOWS CLASSIC CAR RUN
Supporting Rainbows Hospice
for children & young people
Starting at the Hobby Horse pub and restaurant, Syston, Leicestershire (LE7 1BA) and finishing at Barnsdale Gardens, near Rutland Water (LE15 8AH), after a run of around 70 miles.
Check-in from 8:30 am. Venues subject to change, so unfortunately NO ON-THE-DAY ENTRIES.

For further information call Terry on 07970422956 or email vicki.terry9@gmail.com

Final date for entries is Sunday 30th August 2020. Entries received by Sunday 23rd August 2020 will be entered into a prize draw with the chance to win a £25

Farmhouse Inns

voucher.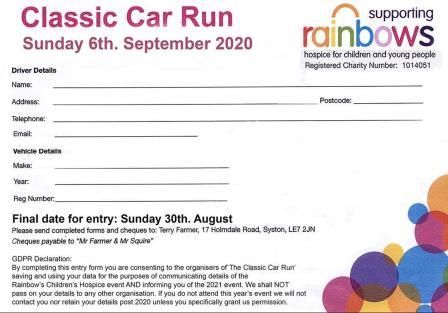 Click HERE to download ENTRY FORMS
for the 2020 Rainbows Run
(PDF format, 2 per A4 sheet)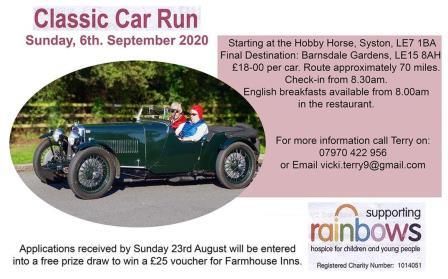 Click HERE to download FLYERS
for the 2020 Rainbows Run

(PDF format, 2 per A4 sheet)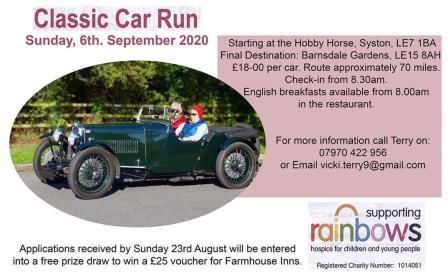 Click HERE to download a POSTER
for the 2020 Rainbows Run
(PDF format, A4 sheet)
GENERAL EVENTS
NOTE: These events may be subject to changes or cancellation, if new government guidelines on COVID-19 are impemented at short notice.
Wednesday 12th August 2020
HARLAXTON CLASSIC CAR MEET
Harlaxton Sports and Social Club, A607 between Melton Mowbray and Grantham, NG31 1HU. From 5:30 pm onwards. Unfortunately, the usual drinks and snacks will not be available from the club house.
Thursday 20th August 2020
GREETHAM GATHERING VINTAGE &
CLASSIC VEHICLE MEET
Greetham Community Centre, Greetham, Rutland, LE15 7NG. 5pm onwards. £2 entry per car in aid of the Air Ambulance. For details of directions to the venue, including essential information about the approach route, please consult the

GREETHAM GATHERING

website.
Friday 28th August 2020 and Friday 25th September
MELTON MOWBRAY CLASSIC CAR NIGHT
This popular meet has now resumed for the rest of the season, post-COVID, having been suspended since April. The July 2020 event was well attended. Market Place / Nottingham Street, Melton Mowbray, LE13 1NW, from about 5pm.
Monday 31st August 2020 and Monday 28th September 2020
STONEHURST FARM CLASSIC CAR NIGHT

Stonehurst Family Farm, Bond Lane, Mountsorrel, LE12 7AA. From about 5pm onwards.
CLUB EVENTS

(North Leicester MG Club members only)
Tuesday 16th to Friday 19th June 2020

CLUB YORKSHIRE DALES RUN - POSTPONED UNTIL 2021


Because of the uncertainty with regard to the removal of regulations on social contact during the COVID-19 (Coronavirus) outbreak, this club run has been POSTPONED UNTIL 2021.

Contact John Beasley for information.
Friday 14th to Monday 17th August 2020
CLUB LLANERCHINDDA WEEKEND

Already fully booked but spaces may become available if anyone cancels.

<Click to join our 300 followers
@NorthLeicsMGOC
visitors to this page since 28/04/2017
Go to
WEBSITE CONTENTS MENU