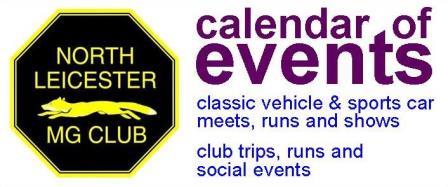 GENERAL EVENTS
Sunday 10th May 2020
CHARNWOOD CAPER RUN

North Leicester MG Club's annual run, which has been running since 2004 and attracts classic and sports cars from all over the country. For entry form and further information go to the
Charnwood Caper
page.
CLUB EVENTS
(North Leicester MG Club members only)
Saturday 25th January 2020
CHAIRMAN'S NEW YEAR DINNER
Contact Colin to request a menu and book your meal. £22 per head, payable to Val at the December meeting.
Sunday 26th April 2020
CLUB "DRIVE-IT DAY" RUN

Join the club on a run to celebrate the importance of historic vehicles in our country's motoring culture - one of many other similar runs throughout the nation on this day. Lunch or picnic at the destination venue. Contact Ian for details.
Tuesday to Friday 16th to 19th June 2020

CLUB YORKSHIRE DALES RUN
Includes organised car run and on-foot treasure hunt of local villages. Not many places left. Contact John Beasley for information.
Friday to Monday 14th to 17th August 2020
CLUB LLANERCHINDDA WEEKEND

Already fully booked but there is a reserve list. Contact Ian Cox to add your name to the reserve list and for further information.

<Click to join our 290 followers
@NorthLeicsMGOC
visitors to this page since 28/04/2017
Go to
WEBSITE CONTENTS MENU