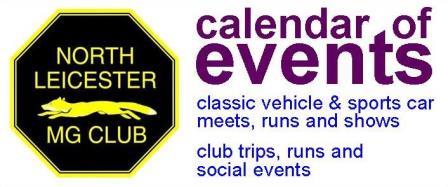 GENERAL EVENTS
First Tuesday of each month starting Tuesday 1st June 2021



GATE HANGS WELL CLASSIC CAR NIGHT


Bring you classic along to join in or just turn up to see the vast array of vehicles on display at the Gate Hands Well pub on the Fosse Way, Syston, LE7 1NH. From around 5pm. In aid of Rainbows Hospice for Children and Young People, Loughborough. See Facebook page to check dates and times and contact info for booking your car in.
Future Dates: Tuesday 3rd August 2021, Tuesday 7th September 2021



Last Monday of each month starting Monday 28th June 2021




STONEHURST FARM CLASSIC CAR NIGHT


Bring you classic along to join in or just turn up to see the vast array of vehicles on display at the Stonehurst Family Farm, Mountsorrel, LE12 7AA. From around 5pm. In aid of Rainbows Hospice for Children and Young People, Loughborough. See Facebook page to check dates and times and contact info for booking your car in.
Future Dates: Monday 26th July 2021, Monday 30th August 2021
Sunday 5th September 2021
THE RAINBOWS RUN FOR CLASSIC AND SPORTS CARS

Organised by two of our members in aid of The Rainbows Hospice for Children and Young People (Loughborough). Starting at Stonehurst Family Farm in Mountsorrel (Leicestershire) and finishing at Moira Furnace Museum & Country Park (an Industrial Heritage Site in the National Forest alongside the Ashby Canal). Half-way stop at Shakerstone Station on the Battlefield Heritage Railway (near Market Bosworth). Further details and application information will be posted here when available.
CLUB EVENTS

(North Leicester MG Club members only)
Friday 20th to Monday 23rd August 2021
CLUB BRECON BEACONS WEEKEND

Another of our popular breaks at Llanerchindda Farm. There are no longer any rooms available. Contact Ron Carter for any queries about the trip.
Tuesday 28th September to Friday 1st October 2021
CLUB YORKSHIRE DALES RUN
Rescheduled from June 2020
and now re-arranged from June 2021
All arrangements as originally planned in 2020. All bookings for June 2021 at have been transferred to the new dates as above at the main hotel.
Bookings will be confirmed individually by the hotel when they re-open. Any members booked at other hotels (currently two rooms) should confirn their own bookings for the new dates. Two rooms are still availble at other locations. Contact John Beasley by email to book your place or let him know if you cannot take part on the new dates.

<Click to join our 310 followers
@NorthLeicsMGOC
visitors to this page since 28/04/2017
Go to
WEBSITE CONTENTS MENU